Ajay Rawla, the current owner accidentally stumbled upon the property on a date he remembers well: the 23rd of January 2008. Having clambered around long forgotten and dilapidated temples, he became intrigued by a whole remaining long solid wall; he crossed the road to see a narrow waylay. Upon entering through a small, crumbled down archway, he was immediately overawed by the grandeur of the courtyard that lay within. Despite its dilapidated state, there was an obvious magnificence to the structure, beauty in its architecture, romance in its design and he knew immediately that this had to be preserved in order to be shared, before being lost altogether to the ravages of time.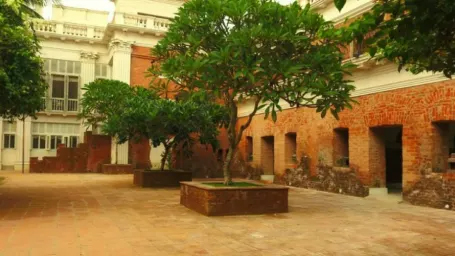 Thus started the journey to recreate the Rajbari Bawali.
It was an arduous task. It took two years to locate all the 18 owners who had dispersed across the globe, getting them all to agree to the project, a whole different challenge. In 2010, the work could finally begin. Advisers were consulted from the United Kingdom, Mexico, Italy, and the United States of America to ensure the restoration was carried out smoothly. Local craftsmen were sent to be trained by the Aga Khan Foundation, in the art of lime water construction by the craftsmen who had restored Humayun's Tomb in Delhi. A separate batch of workers were trained in the art of traditional brick making, for which special molds had to be made in Qila Nizamat Murshidabad. Roofs had to be restored, ponds recreated, pavilions reclaimed, the original wooden shutters from the zenana painstakingly renovated and reused. Interestingly, during the colonial period, marble was imported to India from an Italian mine, called Calcutta. This, along with teak furniture from Burma and other antiques, have been rescued from other buildings of the period, which were being demolished and used in the restoration of The Rajbari. Even the fabrics used are linens and cottons, the natural fabrics of the day, in order to ensure the experience is as authentic and luxurious as possible.
''Not one bit of the beautiful palace has been evaded as we have tried to restore every corner of the old Rajbari to give the essence of Royalty dating back to Akbar's time.''